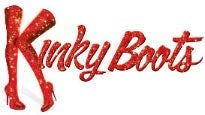 It's been said over and over again:  Broadway mega hit Kinky Boots is a 'Really Big Shoe' (a reference to Ed Sullivan's twang). 
It's Dazzling and fun and filled with multi-talented singers and dancers and the belief that you can change the world when you change your mind. The scenery is sublime and effortlessly takes the audience from the 1890's in North Hampton England to the ultra-chic fashion runway of Milan, Italy. 
J. Harrison Geeh who walks so well in stiletto boots plays Lola to perfection.  Adam Kaplan as Charlie Price is priceless.  This terrific upbeat musical is totally entertaining and memorable.
It runs through March 13th 2016 at the Broward Center for the Performing Arts.  Don't miss it.
Details: www.browardcenter.org